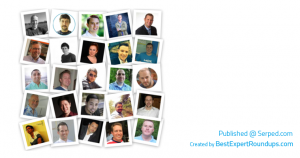 What are your steps to turn a fresh SEO lead into a loyal SEO client?
It's a key question we asked these guys. People who live and breathe SEO. Because they either run their own search engine optimization / digital marketing firm or optimize their own web sites for a living.
Enjoy the insights and please spread the word about this expert roundup blog post.
Anthony D. Nelson
NorthSideSeo.com  //  @anthonydnelson
~ Consultant, Digital Strategist, Seo & Inbound Marketer
My best tip to turn an SEO lead into a SEO client is to be brutally honest with them about their needs.
Understand that this is a person who is trying to build their business and that your service or SEO may not actually be what is best for their company.
Many leads need to take care of other issues (design, ux, conversion, content) before they consider spending money on SEO. Perhaps their niche should focus on paid ads instead of organic. Understanding this is key to running a successful SEO company.
If you take on clients who are not ready for SEO it will ultimately be you that failed to deliver positive ROI. Showing the potential client that you have their overall interests in mind as opposed to just closing the deal is the very best way to get a loyal client.
Bill Slawski
SeoByTheSea.com // @bill_slawski
~Director of Search at Go Fish Digital.
I like to start off an SEO campaign with a site audit that is a deep-level drill down through a site looking at technical issues, useabilty, site architecture, information architecture, review of and use of HTML elements on the site.
This involves testing and addressing the speed of a site though Google's online Page Speed for Insights tool making sure that it is registered with Google's Webmaster Tools, and Bing's Webmaster Tools, and Addressing Errors indicated in those sources and exploring issues at those sites (such as sitemap indexation, links pointed to the site, warnings or messages from the search engines, server error information, search engine spider crawling history and data).
I also like to crawl a site with the Screaming Frog Web Crawler which enables me to check on URL Structures, site structures, the Use of Canonical Link Elements, and to create a content inventory by exporting data into Excel to check on the use of Keywords in the content of a site.
This type of review of a site explores what is working well on the site, and what issues may need addressing, and builds a good starting point for other future recommendations for changes and updates to a site.
This type of analysis also involves moving on to look at the use of structured data markup on a site, social media implementation on a site, and local search preparedness for the site as well, and looking at how the pages of the site appear in search results from the search engines.
Having a discussion with a client about the results of such an audit, after they have had a chance to read it, and answering questions they might have enables us to work together in a positive manner to improve the quality of their website, and likely also it's effectiveness in ranking in search results for the audience that they are concerned about having visit their site.
Brian Patterson
GoFishDigital.com // @BrianSPatterson
~Online Reputation Management consultant and blogger
At Go Fish Digital, my primary role is in client management.  Our sales team, led by Mike Moriarty, does a fantastic job of turning a fresh SEO lead into a client.  Then I step up to turn them into a loyal client.
Besides delivering great results, here are three things that I think are critical to this process:
1. Transparency – 95% of our work takes place in Basecamp, where the client has access.  They see our tasks, what we are working on, and (most of) our internal discussions. While we didn't always do this, we've found that clients like to see things are moving forward and being thought through.
Sometimes they chime in (which is great), a lot of times they don't pay attention or care, but they always like knowing that they can poke their heads in at any time.
2. Pro-Active Orientation – Your client shouldn't alert you to a problem or change, you should be alerting them.  We work hard to be out in front of what is going on with our client's brand and website.
We setup smart alerts in our SEO tools, monitor the web for brand mentions, and keep an eye on social media content to ensure we catch changes as they happen.
3.Future Focused – We make it a point to always be testing new tactics and strategies on ourselves and websites we own and maintain for fertile testing grounds.
Our clients want and expect us to know what is working and how to apply it to them, so we spend a lot of time testing on ourselves so that they get a proven solution rather than being our guinea pigs.
Overall, we are sensitive to the fact that SEO has a bad name in some people's mind and people have been burned by bad agencies who make things worse.  So, we go out of our way to continually reassure that they've chosen a great agency and partner.
Cody Baird
MilkMen.com // @cody_baird
~Milkmen.com – Founder, Local Search Forum – Top Contributor
My thoughts could be considered – against the mold. I believe many businesses and agencies focus on optimizing coupons, offers, discounts, call to actions (CTA), user experience (UX), lead nurturing, or AB testing to their demise.
I believe that conversion happens long before the lead or sale is generated.
But the real trump card for conversion is SOCIAL PROOF. The strongest form of social proof is not # of likes, shares, or followers. The strongest forms of social proof are CUSTOMER REVIEWS. PERIOD. PARAGRAPH.
Google & Yelp reviews for local businesses. And Amazon reviews for ecommerce. Yes, other review sources are important but I find these 3 to carry the most weight by far.
To illustrate my point I will share 2 local business examples. In the example I will use two local businesses in the same industry. Each business has strong organic presence in their respective cities. Each business targets the same services. Both have also been using call tracking.
Business w/ Social Proof:
Impressions – 8,850
Average CTR – 3.11%
Clicks – 275
New Calls – 136
New Customers – 25
Google Reviews – 22
Google Review Score – 5.0
Business w/out:
Impressions – 22,740
Average CTR – 1.87%
Clicks – 405
New Calls – 63
New Customers – 10
Google Reviews – 4
Google Review Score – NA
In Summary:
The business with social proof in the form of Google reviews achieved:
– 65% stronger click through rate (CTR)
– 115% increase in calls
– 150% increase in new customers
The business with social proof achieved these results with 13,890 less impressions and130 less clicks than the business w/out.
Shout out to 5 Star Review System & CallRail.
* 5 Star Reviews & CallRail not affiliated in away with author.
David Smethie
GrowthOnFire.com // @davidsmethie
~Digital Marketing Professional
I start by setting up a free 30 minute strategy session where I look at a prospect's overall digital marketing strategy, including SEO.
Although they initially requested information about SEO, after taking a deep dive into their business goals, website, and analytics, SEO, while important, is often not the tactic that is going to move the needle the most.
I outline various strategies the prospect can implement to improve their online marketing efforts, such as adding better calls to action, adding/improving lead gen forms, creating more compelling title tags and meta descriptions, etc.
I don't try to sell them anything, but instead provide as much actionable value as possible. I end by telling them that if they need help implementing anything we discussed, I'd be happy to help.
Most business owners don't have the time/expertise to devote to digital marketing, so they'd rather have some else do it for them. Because I spent a half hour providing them value without directly pushing my services, many decide to work with me.
And if they don't, it generates good Karma. Plus I've gotten referrals from people I've consulted who didn't use my services.
As soon as I start doing business with someone, I always send them a small thank you package consisting of a bunch of candy and a couple branded pens (costs about $10, shipping included). You'd be amazed how far such a small gesture goes.
Everyone likes receiving gifts, and because so few companies do this, it has a tremendous positive impact and increases the "like" factor in the Know, Like, Trust continuum.
Ed Reese
SixthManMarketing.com // @Ed_Reese
~Online Marketer specializing in search, UX & Analytics
The best way to gain a new search client (in my opinion) is to educate them as much as possible. We do this by explaining the nuts and bolts of SEO in layman's terms to out of the gate.
Then we dive into their website analytics to see how they're currently performing to determine the best path and greatest opportunities.
During this process we'll even help them set up Google Analytic dashboards so they can begin to learn about their online marketing trends and website performance for themselves. Additionally, we'll point out great resources for to lean more on their own.
This includes awesome blogs like Moz, LocalU, and others so they can learn enough about the industry to make the best decisions possible for their organization moving forward.
Though this takes more time, we've found that by doing this first, it sets up a foundation of trust with prospective clients. The worst clients to have in our industry are the uneducated ones.
We want them to have a very good understanding of what we do and how we compare with other firms. We're also the first to recommend another company if it's not an ideal fit for our team.
I've met a number of amazing people in this industry that we've happily referred work to over the years when it wasn't a good fit for us.
We've found that by leading with education, transparency, and being as helpful as possible, it tends to come back from a business karma perspective over time.
Freddie Chatt
Freddie.pro // @freddiechatt
~SEO, Content & International Growth at Amara.com
There is a lot of information out there that tells you to never work for free, not even a little bit.
But a great way to turn a potential SEO lead into a client, is to offer 1 or 2 insanely actionable and explained ideas that they could implement to improve their SEO.
They will not only see that you clearly know your stuff, but also will love your working attitude and trust you to do a great job.
Joy Hawkins
ImprezzioMarketing.com // @JoyanneHawkins
~Google My Business Top Contributor, AdWords Certified Individual, & Moz Contributor
When it comes to turning a lead into a client I have found that my best selling points have been the reputation and testimonials of existing clients.
SEO companies that don't provide a quality product or good customer service generally have terrible online reviews.
I usually steer people to check out our Google Plus reviews or our reviews we collect on Feefo.
Once you get the client, making them loyal generally comes down to exceeding their expectations. I've found in the first month it is really crucial to go above and beyond to make sure the client knows that you still care about them after they've paid you.
If you wow them at the beginning with constant updates it normally results in less questions and concerns.  It's also extremely important to set realistic expectations.
If the client expects you will get them ranking instantly and you used this as a sales pitch to get them to sign up, you are setting them up for disappointment.
If I speak to a business that expects fast results, I usually advise they do a combination of AdWords & SEO. SEO is a long-term investment that every business should have but it can't be the only way they advertise to get business.
Matt Williamson
DrumbeatMarketing.net // @williamson_mt
~Digital Marketing Specialist
For us the main thing that helps convert SEO leads into long term clients is transparency.
This is something that we live and breathe; making clear exactly what we are doing for a client and why we are doing it. This also helps us manage the client's expectations when we engage with them.
Essentially we make it clear that what we do isn't an instant fix but what we are doing will improve their sites relevant traffic and ultimately revenue.
As part of this lead nurturing we make sure that we have regular touch points with the potential clients taking time to really understand their business and their needs in order to help them see our passion and the commitment we make to any client we work with.
For us every business we work with has bespoke requirements, although there will be many overlapping elements that form the key foundations of Good SEO.
Obviously it is important to account for time, but we work to the ethos that it is good to talk and regular communication will build a strong relationship and is mutually beneficial to our businesses.
We often speak to companies that have been paying for SEO but rarely have communication bar maybe a monthly report that is difficult to understand or doesn't contain much detail. Like any service it is important to demonstrate what work you have done in order to get to these results!
We all like to feel that we get value when we pay for something in all aspects of life.
Matthew Capala
SearchDecoder.com  //  @SearchDecoder
~Founder of Alphametic and SearchDecoder.com, Author of "SEO Like I'm 5,' NYU
Here is my process for turing a fresh inbound lead into a client.
– Use a funnel approach and lead nurturing to move a lead through the sales journey
– Pre-quality your leads to make sure you are talking to the right people
– Establish credibility through free thought leadership content and build up your list
– Offer low cost, high value products to pull your leads into your message or process (for me it could be my SEO book or SEO online course)
– Offer a couple of free ideas and SEO gaps to sole your lead's pains (this could be a small sample of SEO audits or missed opportunities)
– Design a customized project to focus on 'quick hits' SEO items that will generate big impact
Michael Arce
LoudRumor.com  //  @LoudRumor
~Local Business Growth Consultant
At Loud Rumor, here's how we turn fresh leads into loyal SEO clients:
Step 1: Screen the Lead
Look at their site, ask questions, and make sure they're a client you can help before wasting either of your time.
Step 2: Remove Obstacles
Find out why they want internet marketing, why they want it now, and why they should work with you specifically – before they ask you those same questions.
Step 3: Find Pain
Ask questions. If more facelift leads isn't important to a plastic surgeon, don't talk about that. Instead, find his struggles. It might be a mommy makeover campaign that flopped. Use that pain point as leverage to provide a solution.
Step 4: Learn More About the Pain
Ask why he thinks the mommy makeover failed, what didn't work, and how much it cost. Learn about the struggles so there's more information to come up with an awesome solution.
Step 5: Picture Perfect
Learn about what he thought the mommy makeover would look like if it succeeded. Ask him to paint a picture so you can better understand what he wants – him as well.
Step 6: Determine Specific Goals
Knowing they want leads isn't enough. Find exact goals. You need to know that they want 20 leads in 6 weeks, 8 of which will close, and 6 of which will sign up for the mommy makeover.
Step 7: Establish a Failure Point
Define what "failing" means. If you only get them 10 of the 20 leads, do they consider that failure? If they say no, ask a lower number… 6? 4? Go down until they say yes, that's a failure and we'd part ways.
Step 8: Get Their Budget
Most people are reluctant to give budgets. But if you're buying a house, the real estate agent should know your allowance so they don't waste time on houses you can't afford. Know their budget so you research only what makes financial sense for them.
Then, ask if you're able to find a program that allows them to achieve this success, would they be ready to move forward? Get their commitment.
Step 9: Find a Solution Within Their Budget
If you can't find a solution within their budget, don't sign them on. But if you can, hold the lead accountable to their end of the bargain and begin paperwork.
Step 10: Build Trust With a Handshake
A handshake, and a simple "Welcome to Loud Rumor!" is something we offer. We then send a T-shirt as a token of membership and share our core values with them, the two most important being that we always do what we say we'll do, and we're honest in every category.
By doing this, we've found that clients actually follow these core values themselves.
If you're honest and follow through with your word, clients will always be loyal even if you eventually part ways. You'll still remain trusted partners. But if you properly screen the lead and ask the right questions, there should be very few that leave.
Mikael Uusitalo
Cubicledropout.com // @cubicledropout
~Freelancer/consultant/entrepreneur. Digital marketer.
For me, I focus on 2 key components when I land a SEO client. Historical results and process and education.
Historical results is a no-brainer, I believe. If you do start to take on clients you should at a minimum have ventured into some niches/industries yourself where you have proven results.
If not, go back to drawing-board and build your own case and return to consulting when you have something to show for. That is the harsh truth in my opinion. Any reasonable buyer should ask for this so you should have it.
Next thing I focus on is process and education.
While SEO has been around for a while now deeper understand of the process, opportunities, pitfalls, does and dont's are still limited even at C-level, at least in my market.
I many cases I start with full on workshop on SEO to really cement what kind of commitment a long term SEO-strategy is across a company.
I educate them on all aspects from on-page and content to off-page and outreach as to get them in the right mindset and a full understanding of what they are buying.
This activity in itself is very much not a sales meeting or a pitch which tend to let the customer let it's guard down and open up about their issues, letting me build a relationship and identify their painpoints.
Also, the law of reciprocity is a strong one!
To set reasonable exceptions I also devote much of my sales-process to educating the customer, and not only in SEO, but in conversions and analytics.
SEO are in many markets very visitor and ranking oriented as far as metrics goes. Education my prospects about the bucket with holes (their website) and filling it with more water (traffic) might be a waste if they can't analyse and stuff their leaks first.
Analytics is a great tool for accountability so I stress it's in both parties interest to have it on lock.
By weaving my whole SEO process with above activities I can build trust and be honest when they need to shift focus before going with SEO and get them when they actually need or are ready to buy SEO
Michael Salvo
WhiteCapSeo.com   //  @michaelsalvo
~Entrepreneur. SEO specialist.
Start further upstream. The prospect should be at least 50% sold before they ever contact you. Buyers are savvy and they will often do hours of research on potential marketing partners before they even reach out.
My advice is to cultivate positive reviews from your past or current clients. This is relatively easy if you've been doing good work with a positive ROI and you ask for a testimonial.
The challenge for me when I got started freelancing was that I was in-house for years and hadn't built a book of business yet.
But I realized early on that a testimonial from a $1,000 customer was just as powerful as a testimonial from a $1,000,000 customer. In those early days of SEO freelancing I ended up doing a lot of work for very little money but the work was always quality and it was well worth the effort.
Those early efforts helped plant the seeds that allowed me to expand to an agency where the same principles apply.
In short: Social proof. Do good work and don't be afraid to ask for a testimonial from your existing clients. Then make those reviews public for prospects to read before they even contact you.
Nathan Rossow
YakSeo.com    //   @nathan_rossow
~SEO Expert
My steps to turn a fresh SEO lead into a loyal SEO client, I only have 3 steps, and honestly it's nothing too ground breaking.
Step 1: The first step is to be available for emails and calls. There is nothing worse than handing off some of your hard earned money to someone promising you the moon, only to have them take days to return your emails and/or phone calls.
I know this from my own experience; I've hired companies to do work for me and then feel like I'm being neglected. Not promptly returning emails and call is the quickest way to turn a fresh SEO lead in a sour and not so loyal (perhaps former) client.
Step 2: Have some quick wins built into your SEO campaign/roadmap. By having some quick wins built into your SEO campaign it can give your client that warm fuzzy feeling by knowing you actually have an idea what you are doing.
Not everyone understands that good SEO is a marathon not a sprint. This can be especially true when working with clients that are new to SEO; they often get frustrated they aren't seeing 'results' immediately.
They usually have the misconception that SEO can be turned on like advertising and have customers flowing in immediately.
Step 3: Talking in your client's language, this is a big one. It is very important to know how to speak to your clients.
This helps build their confidence in you, if you can speak their language as in the industry specific term; they will know you have taken a personal interest in learning about them and type of business.
Not to say you have to become an expert, but at least knowledgeable on what you are speaking about. For example a Dentist might call their customers patients while a Lawyer will call theirs clients.
A client might be super excited to talk to you about the set of WheelyMouses that they bought for the office, and wonder how this new purchase might be incorporated into them getting more or higher business. Would you even know what they are talking about?
These are my 3 simple steps to turn any fresh SEO lead into a loyal SEO client! Feel free to hit me up if you have any questions or just want to chat SEO. The best place is on Twitter @nathan_rossow , or you can find me at my agency's site YakSEO.com
Phil Rozek
LocalVisibilitySystem.com/blog/   //   @philrozek
~Local Search Consigliere
1. Ask them to fill out your preliminary questionnaire (please tell me you have one) before anything else happens. You need the facts on your would-be client's situation, so you can sniff out problems now, so there aren't surprises later.
You must be willing to turn down projects. Otherwise, your new client will be unhappy AND you'll get worn out and unable to do your best work for your other clients. I suggest sending a detailed questionnaire like mine.
(By the way, if someone complains about filling it out or doesn't want to, that's not a good sign – and probably not someone you'd want as a client.)
2. Don't do any work until at least a little money has changed hands. You want your clients to get used to paying you and getting great work in return. You always can (and maybe should) move to end-of-the-month-type billing later, once you've gotten to know each other.
3. Make sure your clients know which steps they must do personally, and exactly how to do those steps. Some things you simply can't do for them without their involvement, like earning good links, writing about their field of expertise, and asking customers for reviews.
Give them all the guidance you can, and make it as paint-by-numbers as possible. (And when you don't know how to do something, say so, and then learn the ropes alongside your client.) If necessary, do some friendly nagging.
4. Give helpful suggestions that you aren't expected to give. For instance, when I've got a local SEO client who I know is getting murdered in AdWords, I'll offer a few specific pro bono suggestions for better ads or better landing pages.
Not only will they appreciate that you've just got their back, but they may also hire you to help with whatever you gave them friendly advice on.
5. Don't treat all clients alike. Give them all the royal treatment, but show your most-loyal clients you appreciate them – especially the ones with whom you've struck up a bit of a friendship.
I've been known to send my best clients gifts around the Holidays or on their birthdays. (They've also sent me gift cards, cigars, and one time even an engraved bottle of Johnnie Walker Blue Label.)
Philip Kleudgen
RestaurantCoverings.com  //   @restacover
~Local SEO specialist
This can be tricky, but I think you can leverage your "expert know-how" in almost every case. Most of my clients have a very rough understanding what SEO is like and they only think about optimizing their articles or product pages.
To turn them into a loyal long term client I offer follow-up services like ranking for additional keywords they didn't aim for before (you can find those through webmaster tools easily most of the time) or I help them to optimize category pages, archive pages and other abandoned parts of the site.
You can also help them to dominate the SERP's by not only ranking the main site but also parasite sites like YouTube videos, Slideshares, a Facebook page and other third party content platforms.
If that's still not enough you can expand upon discovering (and fixing) broken links, optimize for local or seasonal keywords like holidays, cities etc. and offer them monthly reports for a fee. Those clients who don't like to be on a recurring contract can be sold multiple projects.
Sell them something simple, prove that it's successful and sell them on the next project. This may not be as lazy as a long-term client who pays monthly but can be nearly as profitable.
Richard Barker
HarrisonMann.co.uk  //  @HarrisonMannUK
~Digital Marketing Manager
The world is awash with cheap SEO packages that people think will give their website instant results and usually end up making things worse, through poor links and general shoddy work.
The way I position our SEO offering is by walking each client through what we do, the patient approach, and what the ultimate goal for them is – not just rankings, but more business – rankings do not always equal more business.
Obviously I aim to get them ranking for keywords which will increase their business and workload as quickly as possible, however I need to make each client aware that its a marathon not a sprint, and if we do things correctly, when the Google monster comes knocking their site will do far better than if we fired a bunch of poor quality links to their site, and had them penalised.
I also show them how much it costs per click for their given keywords, the search volume and what is possible if we get them into the golden three positions on the first page.
Seeing these kind of numbers makes them aware of the possibilities and even with a modest conversion rate, the potential is usually quite large.
I tend to offer a more rounded approach to SEO, and potential clients see this, we aim to not only improve rankings but their online reputation too.
Google Reviews, Yelp, Bing etc, as well as their website conversion funnel – this ultimately helps increase leads and sales as SEO is not a small part in a larger machine.
To wrap this up it`s all about managing their expectations, there are no quick fixes if they are wanting to build a long lasting online business. I also try to educate them with what is best for their long-term business success – patients in the SEO world can do wonders.
Rizvan Ullah
RankTactics.com   //   @ranktactics
~Organic SEO and Content Marketing blogger
This is a great question and in order to build a successful business you need to focus on customer loyalty.
Whenever I get a fresh SEO lead I like to follow up with them right away to find out what they need done. This way I don't waste anytime because this is a competitive industry and visitors have other options they can quickly turn to.
It's also a good idea to show them your expertise in the industry because there is NO substitute for quality. If you've been in the business for years then you should have the following:
– Content
– Previous work
– Testimonials
– Website
Finally, I believe in being consistent and persistent at the same time. It's an industry these leads don't know too much about so they might not be ready to make a decision right away.
Always follow-up and answer every question they have because this shows your genuine to work with them and will show a lot about your character too.
Here's a breakdown:
– Answer lead right away
– Previous work and experience
– Always follow-up
– Be genuine
I hope this provides some insight.
Robert Fisher
DrumBeatMarketing.net   //   @beatadrum
~Serial Entrepreneur. Internet Marketer.
How to Turn SEO Leads Into High Quality Clients
I will begin by stating all of this is IMO (In my opinion). If you like it feel free to use it.
There are many ways to accomplish the goal of having high quality clients and mine is simply what I have come to believe over the last twenty plus years in marketing and SEO.
Make it Personal and Make it Fast
People do not see you responding quickly as you being too eager; they do see you not responding for days or weeks, as not caring about them or at best, being too busy for them.
When you get a lead or potential client in any way, make sure to follow up quickly. I like to follow up with a call or email within 24 hours. Along with this, I do not send anything that is scripted, but prefer to personalize that communication.
In any communication make sure they can see you are interested in their needs and their outcomes.
Look Under the Hood Immediately
OK, this is a pet peeve with me about our industry, but it is also something that will lend credibility to you and help you establish a good baseline should you go forward.
By the second email or conversation with a potential client, I have asked for access to Google Analytics and GWMT. My pet peeve with SEO professionals is this: Without this data or similar data how can you make any statements about what is REALLY going on?
The reality is this can provide so much to you as an SEO or SEO firm in terms of being able to point back to data around what was going on when you came on board, etc.
Frankly, the moment I see they have no goals in analytics or, worse yet, no analytics code on the site, I know we can help them.
Not asking for this is the equivalent of a mechanic giving a quote without looking under your hood or driving your car. Would you really trust that estimate?
Should the SEO client trust ours if we don't do this? Better yet, when they realize your competitor did not ask for this, you really are way ahead.
Along with GA and GWMT, we get baseline reports using Screaming Frog, Moz.com, SEMRush, ahrefs, and Majestic to name a few.
These reports when taken before or at engagement provide great look back tools for you and the client. They can become billboards for you when the client is considering more work or extending an engagement.
Beware the Website Evaluation Sales Tactic
Full disclosure, I hate this tactic yet I know some great SEO's who use it. I suggest you understand that when using this method to get leads, you have to really work harder and make sure it is personalized and not just something general you provide them.
If you market this way, be careful about what you promise and always give them something that is helpful even if they do not engage your firm.
Give a Little Time and Knowledge to Those Who Do Not Engage You
Early on someone asked me why I spent some time on someone who obviously could not afford our services. I did think on what they had asked, but did not change that behavior.
I have had potential clients who did not engage me then refer others and a few potential clients who a year or even two years later became our clients.
I have one of these who became our client 19 months after I tried to assist him when he was handling marketing at a different company and they would not engage us due to internecine battles.
When he called us 19 months later he was running his own company and subsequently got his prior firm to sign with us. Three months later he brought us another client and in the next six months two more. When I originally helped him it took about 20 plus hours of my time and I was paid zero.
Don't Oversell SEO or How Bad The Current Site Is
I have to say this or I will hate myself. If in responding to a lead, you are sending them something that tells them over and over why they need SEO, you are not telling them anything about them.
You end up sounding like you are the mighty Oz. People don't really like Oz unless it is in a movie. Along with that, don't point out EVERYTHING that sucks about their site. I did this early on and it is not a good way to sell our services.
I prefer to point out things in a positive way like, "I see some things that we can change that are likely to have a positive effect on your results." Yes, you can point out one or two (don't do three) things if they are germane to a big issue the client is experiencing.
Again, do not point out everything that is wrong with the site. I say it again as I know how hard it is to resist and it really can come back to haunt you. Frankly, do an SEO audit on your own site and tell me that it is perfect…mine is not.
Give a Proposal that also Works for You.
Please do not send some kind of brochure or e-brochure that is general. Give a proposal that is thought out regarding their site and their results or desired results, but do not give out a step by step of what you will do.
When you give a step-by-step proposal people have a tendency to want to shop the proposal. They will find someone less professional and less skilled who will do the work for half-price.
That person will get them less than half of the results a pro would have delivered so everyone will lose. One thing we do with all clients is to get a signed mutual NDA early in our talks with potential clients.
This will not prevent proposal shopping but it can be a deterrent. Along with this, we do not respond to RFP's. Requests for Proposals can be a huge waste of time.
Many times I find people have already engaged someone, but are doing this to show the followed some set of rules about it.
Also, many times today, people who are curious put out vague RFP's to find out what they need to be doing which for you would be giving a step-by-step of what is broke and what you will fix.
In your proposal make sure you state what your deliverables will be. Remember, that does not mean you spell out how to perform SEO on a site; make sure you have thought-out deliverables so that everyone can look back when there is a disagreement.
Yes, I said when. Trust me, "when" is correct and "if" is fool's gold. Those deliverables spelled out keep you and your client accountable.
SEO Long-Term Contracts are Very Helpful …NOT
Unless you are doing a lot of work up front with a client and that cost is being amortized over time, I do not suggest year long or longer agreements.
We provide 90% of our SEO services on a month-to-month basis. We bill in advance and we require a thirty-day notice to end our services. I have to say we rarely lose clients before at least a year of business and most stay for years.
Cold Calling for Clients Is Great For ?
Frankly, if you need to cold call for clients, why are you in SEO or SEM?
Just sayin'.
Charge what you are worth.
The point here is not about over charging but more about undercharging. When you charge too little you open yourself up to resent your client. I am speaking from experience. When just starting out selling your services you will likely engage what will become smaller clients maybe a year or two from now.
Most of us take on these clients and are happy to get the business and not being too busy we give them more attention and work extra because we don't have a lot of clients.
Remember that if you are good you will grow and have many more clients. As your client count grows you will not be as able to provide service way above and way beyond.
At that point, older clients can come to resent your "decrease in services" which they now perceive as the original agreement with you. (Note: Again, if you have written deliverables, they can mitigate but not alleviate this affect.)
If you care about them at all, you will likely try to give them that same service and come to resent the fact that you now have clients who are paying much more who are not such a drain on your time.
For me, I have gotten to this place and all of a sudden realized I really did not like those clients any longer. Of course, a minute later I realized it was my fault.
So if you give extra, make sure you point it out to the client each month and/or charge for it. If you charge for the extra it goes without saying, tell the client about it before you do the work.
It's A Lot of Money to Them
One thing I try to avoid is having a client say, "Our company is paying you a lot of money." Unfortunately, it still happens from time to time. I really try to remember that whether a client is paying us $500 a month or $10,000 a month that is a lot of money to them.
Written deliverables will help with this and in a few paragraphs I will speak to show your work, but there is another component to be aware of here: What you said versus what they heard or setting correct expectations.
I am still amazed that we get smart companies with very bright leadership that come in saying we want to rank first for this, this, and this. I even still hear people say, "We've been told we can get to __ rank within three months."
I suggest you be very clear in what you say to this type of client in the beginning. I have clients who came in like this and were told we do not promise rankings or to get them ahead of their clients, etc. I have been very clear that we focus on business results over rankings, etc.
And even after being adamant on these issues, a year later have a client still maintaining an expectation about rankings.
I have had clients who had fallen so afoul of Google that the work to fix 80% of their issues was massive and expensive and they literally forget within a few months where they were and why they were there.
This is true even when we were very clear up front with them.
The reason I point this out is that if this type client has totally different expectations than what were given, then the ones where I uttered anything about rankings are expecting to be page one for 100 terms and their competitors to go out of business.
Show Your Work
I cannot stress this enough. It is not enough to tell your client what you did; you need to show it in a monthly or quarterly report. You need to point out deliverables and any failures or roadblocks.
We use Wrike as a project management tool to keep our time, etc. and it is great for referring back to. We use SaaS for link management, tracking rankings, etc. and our two go-to sources for reporting are typically Moz.com and Megalytic.com.
Full disclosure is that I am Moz's biggest fan and Megalytic.com is a true game-changer for the small to medium-sized SEO or SEM firm.
Also, to be sure you have a history of what has happened,
The key with reporting your work is to realize your client is not watching you every minute of every day you work on their site. You must tell them what you did, what you did extra, and when you reach your deliverables.
You must let them know when you are behind or when a mistake has been made along with corrective actions, etc. This is called communicating with the client. It is the same as communicating in a marriage.
Lastly, I will tell you that about 5 years ago I borrowed something from Moz.com. What I borrowed was their code of conduct, TAGFEE. I urge anyone who is not familiar with TAGFEE to go read about it.
In essence you need to treat people well and keep your relationships transparent. We have used this for a long time and I have never lost a client by telling the truth. Even when we make mistakes, we endeavor to tell the client before they find it.
Lastly, I think by continuing to communicate with others in the field of SEO, we improve our outcomes and those of our clients.
I believe any SEO 'trick' or process I discover needs to be shared with the whole community of SEO professionals. I cannot thank that community enough for what they have given to me.
Along with that, I really do believe I can give away free advice to potential clients or provide a little help to some who cannot afford us and I win. I win because I know that I am not in it for just a living. I am in it because I truly love what I do.
When you love what you do and understand why you do it, clients see it.
Good luck to each and every one of you.
Sean Si
Seo-Hacker.com   //   @SEO_Hacker
~CEO and Founder of SEO Hacker and Qeryz.
I've had my first client when I was still a freelancer – and they're still with me in the entire time i started and scaled up my SEO company (SEO Hacker officially turns 4 years this year).
I guess some of the things they really loved about my company's services is outlined in this post: "15 Important Lessons I Learned as an SEO Start-up"
Basically it's this:
Don't be afraid to evangelize your clients in terms of believing in SEO
Give free consultations – anytime, any day of the week. Clients appreciate that a lot. It pays off tons.
Always build your branding. We deal with big clients who build their brand. Build as they build or they'll feel like they're being serviced by an insignificant company.
Innovate. Clients hired you not just for SEO but to update them on what's happening and to tell them when there's something new out there. It may seem like a small thing but clients appreciate the updates more than you know.
Give free talks to your client's team. It's not all about money. When you leverage on your authority to your clients, that makes them feel like they hired the right person/team.
Steven J. Wilson
HighPoweredSeo.com   //  @HighPoweredSEO
~Visual Content Strategist. Blogger.
There is still this idea about the necessity of SEO amongst many business owners.
I found this to be true especially when it comes to smaller businesses. They want the benefits of what they hear SEO can do for their business but would rather not spend money on it.
That's were things get interesting. Getting them to realize the potential of what you can offer or if you're even the person for the job.
One of our most valuable assets but most expensive is our time. Yet I have found this is the most valuable asset we can offer.
Spend some time offering up your time and giving detail spreadsheets on what you have done, why this is important and what they can expect. It is not possible to show immediate results since what you have done is at the mercy of the search engines.
I worked with a small local business about a year ago, in the Wedding/ Party favor industry.
They were not getting a lot of traction on their website and zero inquiries.
After a couple of talks and some quick research, I let them know how I felt some local SEO would help. From adding a couple of optimized pages, optimizing the current pages and getting a few quality backlinks to start.
I spent a few hours for one week helping them optimize their website. Then I had to sit back and wait.
I was hoping they would get some results sooner than later and call me back to do more.
Well, two weeks after I finished helping them, I received that call. They received seven inquires and booked a couple of events from the form on their website.
I spent a few hours of my time and helped them experience something they were not use to receiving from their website.
From that, I received a new client. Of course even though it was only a few hours, I would have preferred to get paid but what I got from it was far greater. After a couple small projects, I received about $500.
Swadhin Agrawal
DigitalGyd.com   //  @AgrawalSwadhin
~Digital Strategist
In this competitive world of SEO where everyone blogging offers some sort of SEO services, it's really hard to get the perfect lead. Here is what you need to do in order to turn a lead into a paying SEO client.
1) Create a first impression:
The first thing you can do to get leads to your SEO service is to get your own articles ranking high in the SERPs. There is no way a client will trust you if you don't have a blog or company website which performs well on search engine optimization.
In order to turn a freshly funneled lead into a permanent client you need to inculcate an impression that you yourself are an expert in the field. Here is what you need to do to get print a long lasting impression on your client:
 a) Create an impressive landing page:
Your landing page should fully demonstrate what you do. Client testimonials and awards (if any) would add to converting the lead.
 b) Your blog should speak for you.
For example my guide on How to create a money making blog (approx. 4.5k words) earned me two clients.
I came to know this after completing the first job for them. In my project satisfaction survey (which I do after each project is over) they answered my above mentioned post was what made them trust in me
c) Complete the first project on or before deadline.
Everyone likes getting the work done in time. Your client will love your punctuality and will prefer your service over others.
2) Use relationship marketing to turn a one-time offer into a returning one:
Yes, SEO service field too needs relationship marketing. If you are wondering what relationship marketing is read this. Here is how to use it for generating loyal clients.
The clients search for SEO gigs because they themselves have no or little knowledge on this field, right? Use your this advantage to inform the client about upcoming algorithm changes and other SEO updates that could potentially harm their project or sites.
Then politely ask them if they would allow you to save them from the upcoming debacle by taking your service. Most won't say no.
Tommy Landry
ReturnOnNow.com    //  @tommy_landry
~Digital Marketing Blogger
Most of our SEO leads come via referrals, so the first thing we do is reach out to the prospect directly and include a thank you to the referrer, when it is on email.
We have never advertised or purchased leads, so that makes the initial contact as friction-free as they come.
Once we connect, I prefer to do an initial input call 90% of the time. On that call, we introduce ourselves, discuss the client's business objectives, review what Return On Now can do to help, and agree on whether or not to move forward with further discussions and a proposal.
In some cases, we forward pricing as a next step, if there is interest in an ongoing pre-built campaign package or SEM management.
Since we are targeting a very specific size and type of business, RON only proceeds to the proposal stage on roughly 40% of our leads. 20-25% of the leads become referrals from us to other companies, and the rest are deemed a bad fit for our offering.
It is very important to filter for a good fit, because one bad match with a client can take as much time and effort as four good ones.
After a client signs the proposal, we then take them to the on ramp process, which includes a follow up call to review how process will work, the setup activities (getting access to their CMS, setting up Google Analytics and Webmaster Tools, etc.), and pushing them along to the team to start building out their support services.
Then, once we are off and running, we are in close communication for at least the first couple of weeks or month.
After that time, we can pull back and do monthly or quarterly check-ins to compare notes, adjust when needed, and maximize the value they get from our services over time.
We have found that this drives great loyalty, and have only lost ongoing clients due to unforeseen circumstances in most cases (e.g. loss of budget, change in leadership/management who already has another vendor in mind, or acquisition of the client and merging with an existing team).
So basically, know who is your ideal client, stand by those decisions, and do everything you can to get the relationship started on the right foot. That breeds customer satisfaction and loyalty over the long haul.
Tyson Downs
TitanWebAgency.com   //  @TitanWebAgency
~ Helping healthcare professionals get online and get found
To create a loyal SEO client, it's crucial that you 1) communicate clearly, and 2) set proper expectations.
If you are asking somebody to spend a significant amount of money with you and for them to put an extreme amount of trust in you, then it's key that you get off on the right foot.
The best way to do this is to do a proper analysis of their online presence to begin with, and after doing this online analysis, give them realistic expectations, because let's face it, nearly all clients will ask 'how long will it take'?
The last thing you want to do is to not deliver on what you are promising to them. It's much, much better to be 100% realistic or perhaps even a bit conservative.
I'll let my potential clients know that usually we can see movement in 2-3 months and by 6 months or so, we see more incoming leads because of the improved rankings. BUT, each campaign is unique and results may be faster or may be slower.
Also, give extras. Throw in additional services that don't cost you money but that have a high perceived value.
Bonus tip: Be available. If they email, reply in a timely manner. If they call, answer the phone or return their call as soon as possible.
Follow the golden rule, and you'll be on your way to developing loyal SEO clients.
Venchito Tampon
DigitalPhilippines.net   //  @venchito14
~Co-Founder and Marketing Director at LinkCore Media, Link Building Manager at Integrity Digital
There is no exact step by step process on how I turn an SEO lead to a loyal client since there are many variables to that, such as the sources they've come from (referrals, blog, social, etc..) and specific services they're looking for (full SEO, link building, content marketing, etc..).
But in general, here are some of my practical tips on how to get a higher conversion rate on lead generation (from SEO lead to a loyal client):
– Lead your email conversations to a Skype call (video/voice). There are many cases where you can get the client finally decide to start the campaign right away through voice/video calls, rather than answering their questions one at a time through email.One other reason is that Skype or other meeting activities look more professional than a simple email communication.
– Get them ask you some questions – this will conserve time and efforts for both parties as you can easily share what your services' processes are and in the same way, help you know their businesses in a much more detailed way.
– Ready yourself to create customized proposals targeted to the client's campaign. This will give the client a chance to see what you can do for the campaign and how you can progress it to achieve their goals.
If you want to learn more about SEO lead generation, you can check my recent blog post on that.
Your Feedback Is More Than Welcome
What did you learn from this post?
Which conversion tip did you like the most and why?
Feel free to leave your comments below.
Help with Client Acquisition:
Our sister company provides a full service, all-in-one suite of SEO tools to run your agency. Normally they are closed to the public, but here is a link that will allow you access to the service and start prospecting and managing your clients. If you want to see just one of the 40+ tools, you can check it out here: Site Auditor Pro Tool or you may want to prospect with the powerful Mobile Prospector Tool… Both of these and many more are available now (for a limited time):
The post 25 Experts Reveal Their SEO Lead to Client Conversion Secrets appeared first on Serped.com.
Source: SERPd
Link: 25 Experts Reveal Their SEO Lead to Client Conversion Secrets