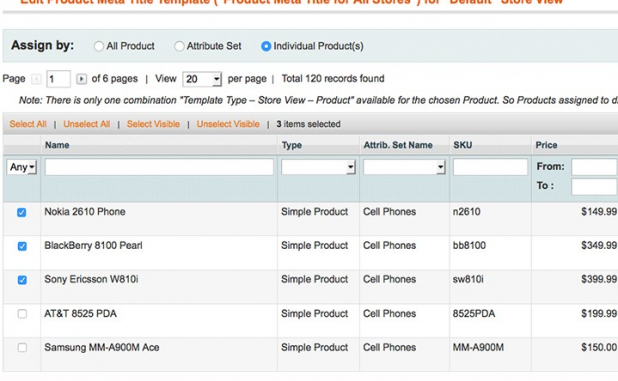 Are you currently using Magento for your online store?
If so, one of the main reasons you probably went with the platform is because it offers a wide variety of extensions to improve the way your site works, without the need for fancy source code modifications.
Each Magento extension should improve the way you run your online store, from social sharing to email address acquisition.
Regardless of how much work you put into making your company into what it is, a few questions still linger: Is your eCommerce SEO strong enough to bring around people who are going to enjoy and share your product? What SEO mistakes can you avoid to take your site to the next level? While SEO is just part of running an eCommerce store, it is one of the main ways of driving traffic.
Heck, you may even know that your product is revolutionary, but it can't find an audience without a solid search engine optimization strategy. Therefore, it's important to learn about the best Magento extensions for SEO.
Quite a few are available, so we narrowed them down to improve your search experience. So, without further ado…keep reading to figure out which of the following Magento SEO extensions are ideal for your online store.
SEO Suite Ultimate
Pricing: $249
The first extension to look into when selecting your SEO arsenal is the SEO Suite Ultimate options, which is extremely popular and has been reviewed as one of the top SEO solutions on any eCommerce platform. It allows for advanced meta data manipulation, helping you manage large amounts of data. There's also sitemaps and rich snippets, both of which improve the way search engines view your site.
Along with alternate URLS, duplicate content solvers and SEO reports, this is truly one of the more comprehensive extensions you can find in the SEO realm. Your best bet is to check out the extensions page, because the pricing is high, but you can technically replace many of the other extensions listed on this page if you're willing to fork over the cash.
SEO Toolkit by Amasty
Pricing: $290
Here's another extension with a high price. However, the price is justified because of the functionality. Although SEO Toolkit doesn't have the popularity of the previous SEO extension, it offers a compilation of settings for launching your search engine optimization the right way.
For example, you can use Google Rich Snippets for displaying reviews and ratings on the search engines. Also use meta tag templates and sitemaps to assist the search engines in revealing what your site is all about. Create your own SEO-friendly URLS, and import product tags to boost your chances of people locating the right products when on your site.
Breadcrumbs for Product page
Pricing: Free
The Breadcrumbs for Product Page extension helps by showing your customers exactly where to go when they navigate through your website. It's a beautiful way to boost your SEO, since customers can quickly jump back to another page they were at before. In addition, the search engines have more information about the previous pages, increasing their recognition of your entire site.
Our advice? Install this extension, since it's free and it's an easy way to help out customers and search engines.
Rich Snippets for Search Engines (Bing, Google and Yahoo)
Pricing: Free
You may not know what rich snippets are, but you've definitely seen them in action. A rich snippet is some sort of markup on your search engine results, which draws more attention to your particular listing, as opposed to the many others above and below your search engine results.
For example, if you write a review, you can implement a five-star rating. These stars then show up in the search engine results, prompting users to click more often. The extension provides markups for ratings, authorship, reviews, products, breadcrumbs and more.
Search
Pricing: Free
The Search extension offers another free way to slowly reshape the way users move through your online store. Although this doesn't affect search engines much, Google and Bing recognize how quickly your customers are able to find what they want.
Therefore, a handy search module toward the top of your site can work wonders for taking your search engine game to the next level. To understand more about the search functionality of Magento and other platforms like Shopify for example, this website might come in handy.
Compress JPEG & PNG images
Pricing: Free
With large images on your website comes slow page load speeds. With slow page loads comes bad search engine rankings. No one likes waiting around for websites to load up, so it's imperative to get your images under control.
Since images are often the biggest problems with site speeds, you can quickly install an extension like this to compress images as they're uploaded to your store. The plugin can shrink images that are in the JPG or PNG formats.
Full Page Cache Speed Booster
Pricing: $99
Caching your website means you're basically serving up a recent version of your site so that the page loads faster. Since it's such a recent clone, you don't have to worry about users noticing that it's slightly different.
Caching is huge when it comes to improving your site speed, and like we talked about above, site speed plays a large role in SEO. The key with caching is to automate most of the process, which is why an extension like the Full Page Cache Speed Booster is necessary.
LitExtension: SEO URLs Migration Plugin
Pricing: $99
LitExtension provides nifty tools for those companies looking to preserve search engine rankings when attempting to move an old store to a new domain or server. The problem with moving a site is that you technically lose some of the search engine rankings you worked so hard for.
However, this extension has a beautiful four step process for migrating a site with ease. All you need is to provide your cart information, and everything else is completed for you.
Over to You…
Now that you've had a chance to learn about the best Magento extensions for SEO, drop a line in the comment section to explain any of your own feedback after using these extensions. Would you recommend any additional extensions for SEO on Magento?
Matt Janaway is a digital and online entrepreneur and marketer, specializing in the retail and eCommerce arena. He has built, purchased, optimized and sold in excess of 10 eCommerce businesses with multi-million pound revenues and is now heading a team project optimizing 30 websites with more than 20,000 products. He considers his methods, scientific and incredibly advanced.The post The Best Magento Extensions for SEO appeared first on SiteProNews.
Source: Site Pro News
Link: The Best Magento Extensions for SEO