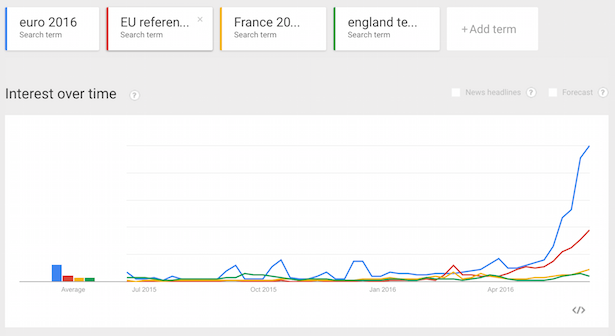 Seasonal events which can deliver relatively short-term traffic spikes, need to be planned for from an SEO perspective. 
It's about being in the right position at the right time to capitalise on interest and to hoover up all the traffic you can.
Seasonal events could mean Black Friday, the Christmas shopping, one-off days like Mother's Day and Valentine's Day, or sporting events. In this case, I'm using the example of the Euro 2016 football (or soccer) championships, which begin on Friday.
This month-long feast of football will spark much interest from football supporters, around Europe and indeed the whole world (maybe not the US so much).
There is already plenty of interest around the tournament. Indeed, 'Euro 2016' is more popular than the crucial EU referendum on Britain's membership of the EU. This is nation which has its priorities right.
The chart shows the sheer level of interest around the tournament, before it even begins. There'll be plenty of searches around the event, and lots of opportunity for sites to attract traffic.
As Sophie Moule from PI Datametrics explains:
In 2012, 'Euro' related searches superseded all other topics in terms of volume. This year, searches relating to the Euros have over doubled already in comparison. This is obviously a huge opportunity for publishers to drive traffic to the content they will be producing to cover this major sporting event.
We are already seeing clear winners and losers in the SERPs for these terms. Publishers wanting to gain visibility through organic search will need to adopt SEO best practices, particularly consistent internal linking.
Here, I'm looking at publishers, the most obvious destination for much of the Euro 2016 traffic. As publishers compete for online traffic, this is an area where the right SEO strategy can really pay off.
Seasonal SEO success factors
Planning in advance should allow sites to capitalise when the time comes.
Publish in advance of the event. It takes time to rank, and those sites which have pre-prepared Euro 2016 pages have an advantage.
Don't publish volume for the sake of it. Publishing more pages doesn't help unless you have a unified strategy around your target terms.
Reuse pages where you can. If you rank for a seasonal term, don't delete the pages, just update and adapt.
Pick a hero / hub page for each term. You need to decide which page you want to rank for each keyword and work your strategy around that. Send a clear signal to Google about which page is beat for each term, and avoid competition between pages on your site.
Euro 2016 hub page examples
A hub or category page, backed up by consistent internal linking, is the way forward. Here are a few examples.
BBC
The BBC is currently the top site in this slot after EUFA.com. It has a dedicated landing page for it, and points links at the page.
As a result, it ranks consistently for the term, and has done for the last four months. As a result, it's in prime position for the start of the tournament.
Mail Online
Mail Online has been implementing a more consistent category page strategy recently, and seems to have applied it to Euro 2016, pointing most links at this category page.
As a result, the page ranks more consistently for the term. However, the strategy hasn't been applied as well as possible, so there is still some competition between different pages on the site.
This alone may be keeping the Mail off page one of Google.
Who hasn't got it right?
While the two sites mentioned above, and other such as The Guardian and Telegraph are ranking more consistently thanks to an effective strategy, others are struggling in this regard.
Metro
Metro simply has a tag page for the term 'euro 2016' and doesn't link to this consistently. As a result, the rankings are all over the place.
Every time it publishes an article on Euro 2016, it competes with previous pages for the same term. Google has indexed at least 40 different pages on that term in just four months.
It's currently on page three of Google, and in no position to capitalise on traffic.
The Independent
It's a similar story here. 70 different URLs have been competing against each other to rank for 'euro 2016'.
It does have a landing page for the term, but it's barely performing, currently it's not even in the top 100 results.
The reason is that The Independent is barely linking to that landing page. Take this article – the exact term occurs four times yet not one mention is used to link to the category page. The same is true of ten other articles I looked at.
In summary
Creating category pages for key terms and using consistent internal linking to help them rank isn't a difficult SEO strategy, but it can be very effective, as the BBC and other examples show. It also helps users, offering a useful destination page to see all the relevant content on a topic.
However, as we can see from the last two examples, some sites are just not putting this into practice. As a result, they're in a poorer position to take advantage of the massive online interest around Euro 2016.
Source: ClickZ
Link: Seasonal pages and SEO: who's ready for Euro 2016?