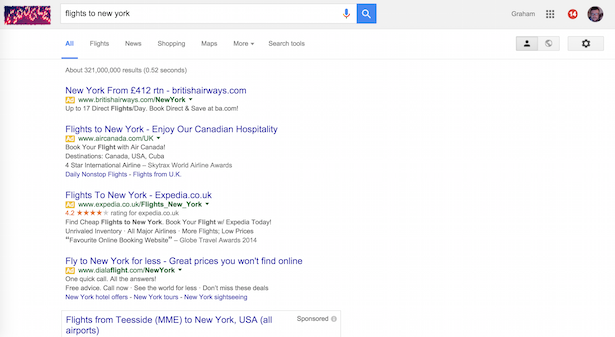 Google made major news last week when it confirmed that it was eliminating right rail (sidebar) ad slots for queries with a high degree of commercial intent.
Why the change?
Nearly every change Google makes to the way it displays paid and organic results is an attempt to balance consumer preference against revenue yield. So far, this approach has been successful in reaching an outcome that satisfies both.
In terms of consumer preference, there is no reason to believe that its user base will be alienated by the appearance of a fourth top-of-organic ad spot when commercial intent is high.
As I've noted many times, in this context ads are often more relevant to the searcher than organic listings.
Revenue-wise, it is possible – even likely, that the new top-of-organic fourth spot will deliver revenue equivalent or in excess of that earned via the entire right rail.
While some commentators have lamented the further loss of organic real estate caused by this change, it is doubtful that this loss will be appreciated by more than a fraction of Google's users, a sizeable percentage of which already have trouble distinguishing between paid and organic results (an issue that the FTC has been concerned about for years, but that's another story).
Strategic implications for marketers
While it's too early to quantify the precise effects of Google's abandonment of the right rail on marketers' willingness to participate in paid search, the amount of money allocated to Google versus other ad platforms, and the impact on ROI/ROAS, the change has critical strategic implications for marketers, among them:
1.Position becomes more important than ever
The change will accelerate competition for the top four paid spots, raising prices for these coveted positions.
I expect this to drive significant CPC inflation as it becomes an all-or-nothing ecosystem. Get out your checkbooks and re-check budgets!
2. PLAs
PLAs (which may continue to be displayed in the right rail in some SERPS) become more critical than ever to retailers.
At the same time, PLA prices may – because of this change — become cost-prohibitive to some marketers if the demand for PLAs begins to exceed the supply of right-rail PLA ad slots.
3. Real-time
Real Time or near-real-time Bid Management becomes more important for ever for power keywords.
I expect some marketers who've been content with once-a-day batch management of bid changes to upgrade to systems such as Maestro, which works in real-time.
4. Quality Score
Quality Score becomes more important than ever, so ads and landing pages for any of the top 10% of keywords should be reviewed.
5. CRO
CRO (conversion rate optimization) becomes more important because any bid management system needs to be able to acquire position in the all-important top-of-organic "four pack."
6. Segmentation
Segmentation of campaigns by geography may make more sense, due to both order/customer value and conversion rate difference.
7. Mobile search
Re-evaluation of the "mobile opportunity" as the desktop inventory shrinks, and a focus on understanding which mobile micro-conversion metrics should be tracked (click to call, calls, etc.)
8. RLSA
Re-evaluation of RLSA (remarketing lists) is a way to justify higher bids on critical keywords.
9. Video and images
Marketers will want to double down on video and image SEO to colonize remaining organic spots on the SERP.
10. Metrics
Marketers must be sure of their conversion metrics and KPIs.
Failure to accurately measure/quantify all marketing benefit from a keyword will result in under-bidding and campaign failure.
Marketers must evaluate:
Offline conversions that happen as result of SEM
Email capture and social media activity driven by SEM
Brand lift due to site engagement, particularly on early research or generic keywords
Visitation to key micro-conversion pages on the site, (contact us, etc.)
11. Interaction effects
Better understanding of the interaction effects between other media and search to facilitate aggressive bidding when warranted.
12. SEO, Social and all earned/owned media
SEO, Social and all earned/owned media become even more important, as does effective display media.
All stimulate search behavior and raise quality scores if they are none effectively.
How is Google's big change affecting your PPC marketing posture?
What steps are you taking to make your campaigns lean and mean enough to get into the coveted four-pack (Google may not even always show four)?
I'd love to know about how you're facing Google's latest challenge.
Source: ClickZ
Link: Life without Google's right rail: 12 strategic implications for marketers