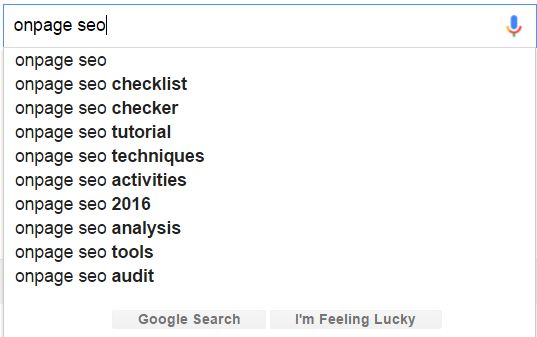 Are you paying enough attention to your on-page SEO? I bet you've done your homework with keyword research and keyword density but how about LSI keywords?
If you haven't heard of the latter or don't know much about it, now is the right time to improve your knowledge and start using LSI keywords as an integral part of your SEO strategy.
A short note before we dive in: This article won't discuss topics like off-page SEO, link building or even keyword research.
Instead, it will be dedicated entirely to one of the less known aspects of SEO – LSI keywords.
Today you will learn how to improve your Google rankings by using LSI the right way.
Keyword Density – the predecessor of LSI keywords
If you've been in the SEO industry for a few years, you have definitely heard the term keyword density.
Simply put, keyword density shows the number of times a word appears in your text. It is measured in percentage. The bigger the percentage, the higher your chances of ranking better in Google for your pre-selected keywords.
You see, back in the day, keyword density was THE only way the Google search engine could define if a particular page was relevant to the query the visitor was searching for.
Needless to say people started taking advantage of this metric pretty quickly.
That's how keyword stuffing was invented.
Keyword stuffing – the dark ages before Google Panda existed
I bet almost everyone who's been trying to optimize their webpage for a particular keyword has tried keyword stuffing at least once in their lives.
In a nutshell, this is the process of adding your main terms more times on your webpage so that you start ranking higher in Google for them.
Makes perfect sense, right?
And it worked… for years and years.
After all, besides the links anchor texts (where the concept was pretty much the same by the way) keyword density was THE most important on-page metric out there.
You just had to include your main keywords in your page's title, META description, META keywords and to spam the hell out of your body of content and BOOM! You just boosted your site's rankings big time.
And I'm not talking about small jumps. You could literally enter top three in Google just by increasing your keyword density by 10-15 percent.
Doesn't sound too good anymore, eh? No.
In order to start cleaning their results, Google had to find a better way to evaluate the relevancy of each webpage on the Internet.
This long and tedious process began with the launch of the Google Panda algorithm in 2011, which was additionally improved in 2013 when Google Hummingbird was initially launched.
With these two important updates, Google first pulled the switch on a huge chunk of useless, low-quality and spammy content which took the game to a brand new level.
You're probably wondering if Google used LSI keywords before Panda.
My assumption is that Google has probably considered LSI for more than 10 years now. Probably even from the very beginning.
But we probably won't be mistaken if we say that it started to pay more attention to these specific keywords in the past five years or so.
Nowadays, LSI keywords are considered one of more than 200 Google ranking factors that every SEO expert and webmaster should have in mind in order to improve their SERP rankings.
Does keyword density still matter?
Five years after Google Panda was initially launched, we can safely say that keyword stuffing has become an obsolete technique that not only doesn't work anymore but can even worsen your SEO.
OK, but how does this apply to keyword density? Should we still pay attention to it?
To be honest, I always begin my on-page analysis by checking the keyword density percentage of the top 10 ranking websites in my niche.
Remember, SEO is all about finding patterns, analyzing them thoroughly and getting the best out of them. It's a game in which you must always keep pace with the best players in order not to sink into oblivion.
With that being said, keyword density analysis is an inseparable part of the whole process. It gives you invaluable insights over the best ranking sites in your industry and how they do their on-page SEO.
Simply put, you have to know which keywords your main competitors are using and what their percentages are so that you can replicate these stats and fit in perfectly.
NOTE: These techniques should always go hand-in-hand with your link building efforts, but as I mentioned in the beginning of this article, we're only interested in the on-page stuff right now.
LSI keywords – the modern way of doing on-page SEO
So far we covered all the main aspects of search engine optimization from on-site perspective. You already know that keyword density still matters, while keyword stuffing doesn't.
Now it's time to take your SEO to another level by diving into the world of LSI keywords.
What does LSI keywords mean?
LSI stands for Latent Semantic Indexing. It might sound complicated at first reading, but it's not really. LSI keywords are simply closely related words or phrases that are semantically related to each other.
Does this make them synonyms? Not exactly.
Latent Semantic Indexing keywords are not just synonym words. They are words that often go hand-in-hand without being direct synonyms.
Let me explain this with a real LSI keywords example.
Have you ever wondered how Google understands what a particular webpage is all about?
Let's say that you are writing an article about cars. You may well be writing about one of these five things:
Cars – the vehicle
"Cars" – the animation movie
CARS – the Canadian Association for Rally Sports
CARs – the Canadian Aviation Regulations
The Cars – the American 1970s music band
So how does the search engine algorithm know what topic you are writing about? Exactly — by using LSI keywords.
Basically, the Googlebot scans your page searching for closely related terms that can help it understand your page content better.
Back to our LSI keywords example about cars.
Here are some Latent Semantic Indexing keywords that Google would have found on your pages if you were writing about one of the topics given above.
Cars – the vehicle (vehicle, used, new, buy, sell, dealers, repair, etc.)
"Cars" – the animation movie (film, movie, produced by, directed and co-written by, motion picture, Walt Disney, etc.)
CARS – the Canadian Association for Rally Sports (association, rally, sport, championship, Canadian, etc.)
CARs – the Canadian Aviation Regulations (aviation, regulations, administration, aerial, aerodromes, airports, etc.)
The Cars – the American 1970s music band (rock, band, music, guitar, drums, song, etc.)
See, that's how Google knows!
How do you find LSI to rank high in Google? No more theory, let's dive into the practical stuff.
There are four easy ways to find Latent Semantic Indexing keywords:
1. Google's instant search
2. "Searches related to" results
3. Bold words in SERP results
4. Keyword research tools
Let's break them down step-by-step:
Find LSI keywords via Google Instant Search
The first way you can identify LSI keywords for your SEO campaign is by simply writing your keyword into Google's search box and see the 10 suggestions it returns for you. Remember to turn on your instant search feature in your browser in case you have previously turned it off, otherwise this method won't work for you.
Find LSI keywords via the "Searches related to" feature
Just type your keyword in the search box and scroll down to the bottom of the results page. There you will find eight additional suggestions you can add to your LSI arsenal. Note that some of them might not be a nice fit so make sure you analyze them from a human perspective for best results.
After all, you don't want to include LSI words like "fun easy learn English" in your article despite the fact that Google tells you not to. It's simply not natural. Instead, you may consider changing your LSI keywords into "fun and easy way to learn English." Much better.
Find LSI keywords via bolded words
When you perform a search you'll notice that Google shows certain words in bold text.
Do you know why?
Because it considers these words closely related to your search string. In other words, these are considered LSI keywords. Whenever you notice some keywords in bold make sure you implement them in your own copy. They will help you make your page more relevant to your subject.
Find LSI keywords with the help of some tools
If you have already exhausted the first three methods for finding Latent Semantic Indexing keywords it's a good idea to enrich your LSI arsenal by using some LSI tools.
I suggest that you begin with the most popular tool namely, Google keyword planner.
Here's how to do this.
Firstly, put your keyword through the tool and click "get ideas".
You will see two different tabs in this tool that are great sources for LSI keywords:
Ad group ideas – This is a much underestimated option, but is one of the best sources for LSI keywords ever. Just go through the list with suggestions and make sure you include as many as possible in your final copy.
Keyword ideas – Everyone knows this one but very few of you have actually used it as a way to find LSI keywords. You can start using it today.
Other great ways to scrape for LSI keywords is by using some tools and plugins specifically designed for this purpose.
LSIGraph tool – LSI keyword generator
If you run a search for LSI keywords in Google you won't miss this one. It's ranking in top three.
LSIGraph is a very easy to use, but yet very powerful tool. Just put your desired keyword in the search box and hit "Generate."
The LSI keyword generator will come up with a long list of potential LSI keywords that are a perfect fit for your string. You will be pleasantly surprised how many more keyword suggestions you will get from this nifty free tool.
SEOPressor plugin
As its creators said it, SEOPressor is an on-page SEO plugin for WordPress that helps you do on-page search engine optimization.
It's pretty simple to use too.
You can learn all about how to get 100 percent from the video below:
SEOPressor also does multiple keyword analysis, over optimization check, social SEO integration and structured data support. Finally, you can even do an automatic smart linking to reduce your bounce rate.
This is a paid LSI tool, but its cheapest plan starts from as low as $5 per month so it's quite affordable.
There are multiple other keyword generators that can be used as LSI keyword generators, but here's a list with my top three favorite ones:
Übersuggest.io
Keyword.io
KeywordTool.io
How do you use LSI keywords in practice?
Now that we already know what LSI keywords are and how we can find them, it's time to start using them to improve our on-page SEO and organic rankings.
OK, so how do you use LSI to rank high in Google?
You have already come up with your list of Latent Semantic Indexing keywords and now is the time to start integrating them in your webpage.
Here are the main areas where you can implement LSI keywords to get the most out of them:
Page title
H1 and H2 tags
URL address
META tags
Images alt text
First paragraph of text
Body of content
Links anchor texts
Last paragraph of text
By sprinkling LSI keywords through each and every one of these elements you will surely get the best from your on-site optimization.
Remember to keep track of your keyword density as well. You must always keep an eye on your top 10 competitors' keyword density strategy and try to adapt to it in order to rank among them.
Congratulations! Now you know pretty much everything about the Latent Semantic Indexing keywords concept and how to use it in your favor.
I hope you find this article useful and it becomes an integral part of your on-page SEO and keyword research strategy.
Please, share this piece on your favorite social media platform and leave your comments in the comment section below.
Nikolay Stoyanov is a Bulgarian SEO expert and CEO of NikSto.com. He's been in the SEO industry for more than eight years. He enjoys performing thorough keyword research to find keywords that other experts tend to miss and is specialized in Google penalty removal. His company offers complete white hat SEO solutions to their clients and helps small companies to increase their organic traffic and revenue.The post Improve SEO With Latent Semantic Indexing appeared first on SiteProNews.
Source: Site Pro News
Link: Improve SEO With Latent Semantic Indexing