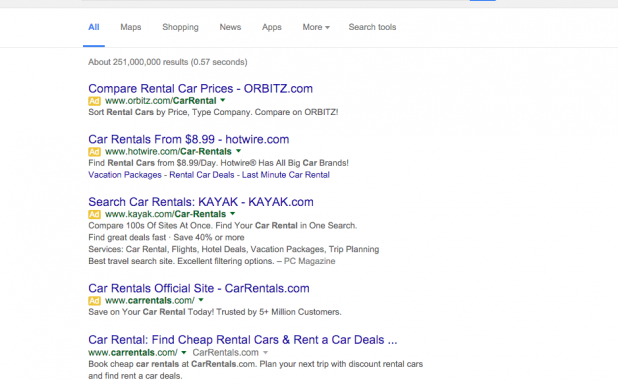 If you've used Google lately, you may have noticed a difference in the way the SERPs are laid out. As of Feb. 23, the sponsored ads that used to appear in the right-hand column of Google's SERPs are gone, replaced by four ads in the top of the search results and three beneath them.
While this change has sparked fear in the hearts of marketers who rely heavily on sponsored ads to succeed in SEO, it's not difficult to see how this adjustment is in-line with everything else Google has done in recent history (from content-specific updates to mobile-friendly changes across the board) and how it will serve to incentive marketers to focus on content more than they do paid advertisements.
What the Change Looks Like
Before Google gave this change the go-ahead, ads appeared in three places in Google's SERPs – to the top, bottom, and right-hand side of them. Now, however, the ads are only appearing at the top and bottom of the SERPs. The new layout looks like this:
In addition to providing a somewhat more pared-down SERP experience, this new layout also places less importance on sponsored ads, and more importance on organic search, inbound marketing and quality content.
The Reason Behind the Change
It's no secret that Google has been working for quite some time to create a mobile-centric search experience. Things like last year's algorithm update prove it. In line with this, the new, pared-down SERPs obviously provide a more streamlined user experience that is compatible with searches on mobile devices.
In addition to decreasing the clutter a mobile user sees on his or her screen, this change also serves to eliminate the less-used ad units (those on the right-hand side of the SERPs) from the equation and direct the majority of the organic traffic, instead, to the ads that are housed above the organic results.
How the Changes Will Affect Organic Search
The biggest thing that many Google users have noticed about the new change is that it makes ads look almost exactly like organic search results. This, combined with other recent Google changes like the Knowledge Graph and Featured Snippet features, go to prove beyond a shadow of a doubt that Google is focusing more and more on quality user experience and less on paid positions.
Because of this, this change will only truly affect the marketers who have been relying heavily on sponsored ads to obtain rankings. For marketers who have been focused on creating content, instead, there's likely to be no large change with this update.
How to Use Content to Rank Well in Google's SERPs 
In light of the new SERP layout, it's more important than ever to dedicate your focus to content rather than paid advertisements. Here's how:
1. Go in-depth
Today's users love in-depth, relevant, helpful content and are happy to interact with material that answers their questions. Because of this, it's more important now than ever for marketers to dedicate themselves to creating quality, expansive, long-form content that gets to the heart of a user's issues.
2. Offer value
Content forms like guides, how-tos and visuals offer the most possible value for a user's engagement and they're the types of content that are sure to earn you more readers in the long run. To ensure that your content is as valuable as possible, research topics on sites like Quora and Buzzsumo and take the time needed to produce relevant, information-dense content that your readers want to interact with.
3. Focus on being natural
Everything about the layout of Google's most recent change indicates that the search engine giant is placing more importance than ever on content that looks and feels natural. Less sponsored ads and more organic search results. Because of this, it's important for marketers who are creating content for Google's new SERPs to hold the importance of quality, relevant content in their heads. By writing for people first and search engines second, today's marketers can ensure high rankings on Google's new and improved SERPs.
4. Create more content
If you've been heavy on the sponsored ads and thin on the content, now is your time to change things up. By creating more content, you can draw more readers to your site and give Google more pages to index, which will naturally improve your SERP rankings.
Conclusion
Google's recent changes are simply another step by the search engine giant to provide users with a streamlined, valuable search experience. While the importance of sponsored ads just took a hit, the importance of quality content didn't and today's users can continue to rank well in Google's SERPs by focusing less on paid ads and more on quality, relevant content.
Julia Spence-McCoy is the CEO of Express Writers, an online copywriting agency that began in 2011 with thousands of web content pages written to date and more than 50 talented writers on the team. Her passion is copywriting and all that pertains, including the ever-changing game of Google algorithm updates.The post Google Does Away with Right-Hand Ads: How That's a Good Thing appeared first on SiteProNews.
Source: Site Pro News
Link: Google Does Away with Right-Hand Ads: How That's a Good Thing