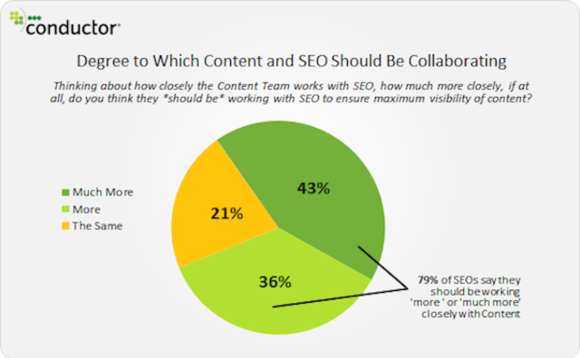 Since the rise of the term content marketing, perhaps three or four years ago, there's been plenty of talk about the end of SEO and its replacement by this 'new' discipline.
It's true that many search agencies have since rebranded or have emphasized their content expertise, but this doesn't mean that content marketing has rendered SEO obsolete. Far from it. Indeed, the two disciplines should work together, and the use of either has to include both SEO and content if it is to be truly effective online.
Key differences between content marketing and SEO 
SEO and content marketing overlap, but there are key differences.
Aspects of SEO are more technical. This includes the use of correct URLs, title and ALT tags, sitemaps and so on: the stuff that underpins your content marketing strategy.
Content marketing is broader and isn't necessarily confined to SEO goals. For example, a publisher should produce excellent content first and foremost as a way of attracting and retaining an audience.
How content and SEO can work together 
There is a school of thought, or at least the perception exists in some quarters, that SEO is merely about creating good content for the search engines to index.
While I'm all for the quality content part, there's more to it than that. If you haven't ensured that the on-site SEO groundwork has been done, your content efforts will be wasted.
For example, if your site has a penalty, or Google isn't indexing pages properly, then you're going to need some SEO expertise, great content or not. This is why the SEO experts and content teams need to work together. As the stats below show, this isn't necessarily happening all the time, but there is a desire for closer collaboration.
Here are some ways SEO and content can work together:
1. Creating original, quality content  
While thin content created to provide fodder for Google's crawlers may have worked to a certain extent a few years ago, it isn't effective now. Also, weak content produced to make up the numbers will not work from a content marketing perspective, as it will not help to attract and retain readers.
Instead, from an SEO perspective, original and engaging content will set you apart from competitors, as it gives the search engines something to index that can't be found elsewhere. It also helps your content marketing goals, as original and quality content is far more likely to attract the audience you're targeting.
Ask yourself whether your content inspires people to linger on your site longer than a minute or so. Does it provide value, such as useful advice that helps them to do their jobs better?
2. Evergreen content and SEO 
Creating evergreen content is a great strategy for improving search rankings, as well as making your site a more useful one. A piece of news will often do well in Google while it's fresh topical, but will fade thereafter. It doesn't deliver long-term traffic. However, a more useful article that contains valuable advice and insight will attract the kinds of links and engagement metrics that Google is looking for, and is more likely to perform well in the search rankings over a longer period of time.
If you can get this right, it's a virtuous circle, as higher search rankings means more visits to the article, which then leads to more links, better rankings and so on. One example of evergreen content from Search Engine Watch illustrates this point; this article on writing title tags for SEO is from 2012, but is still useful to readers and attracts plenty of traffic.
It also ranks at No. 1, or in the top three for searches around writing title tags and SEO.
The useful content helps it rank in the first place, but this high ranking means that the article continues to deliver traffic to SEW. It's great when it works like this.
3. Keyword research  
Keyword research is essential for content marketing and SEO to work well together. First of all, the quality has to be in the content you produce, but you should also ensure that the content you spent time creating achieves the exposure it deserves. To achieve this, your content needs to match the search terms that people are using and answer these search queries effectively.
If you use too many technical terms in your articles, this language may not match that which searchers are using. To avoid this, do some keyword research to find out which terms are popular and match the language you use to the way people search
Soovle, shown below, is a good tool for quick idea generation, but there are plenty of other SEO tools available.
4. Monitoring keyword goals
Once you have a list of terms and phrases to target with your content efforts, it's important to monitor and measure your efforts. Is the content you produce hitting the mark? Is it having an effect on search positions? Don't expect overnight results; it can take time before you see any shifts in search, and it may be very competitive for certain keywords.
There are no guarantees of success, but a well-applied strategy using focused content will pay off on a long term basis. It's important to add that, while content can play a key role in achieving SEO goals, it shouldn't be a slave to those goals. Keywords shouldn't be crowbarred in so that content quality is affected. The reader shouldn't notice too much.
5. Link building
Good content attracts links. Just make sure it's distributed effectively so that it can get the attention of as big or influential an audience as possible. There's no great science to this; just create content that people will want to link to and see how it works.
On my last site, good posts would generally get between 200 and 1,000 backlinks. However, the odd one received more than 10,000. They weren't necessarily the most popular posts, either. If I knew the secret, I'd bottle it.
We can see how evergreen SEW articles have attracted impressive numbers of backlinks. This article on Excel shortcuts and tricks fits the bill in terms of being a useful resource for marketers, and has therefore attracted plenty of links, as Majestic data shows.
6. Internal linking
This is an obvious way to use content to help with SEO goals, as well as improving the user experience. Internal linking can help Google crawl your site more effectively, help pages to rank well for certain search terms, and also point users toward content that is relevant to the article they're reading.
It's simple enough to put into practice, and should be a part of the thinking when writing and editing content.
7. Measurement
It's vital to measure the effects of the content you create in terms of SEO goals. If you're aiming to improve rankings, there are some useful tools out there to track changes in ranking positions and see the results of your efforts.
You can also use analytics to see how the volume of search traffic changes over time, and which pages and articles are most effective for this.
Content marketing metrics should be applied too. If you're creating the kind of content that is valuable to your target audience, then metrics such as bounce rates, time on site, and visitors viewing multiple pages should be moving in the right direction.
8. Headlines 
Headlines are very important. They should be descriptive and should work hard to convince people to click, but they shouldn't try too hard. For example, a title such as "10 useful tips to improve your landing pages" is fine, as long as those tips are useful and deliver on the promise. However, "10 awesome tips that will improve your landing pages and make you a millionaire" might be promising more that it can deliver.
Headlines must be written for the Web, and you need to consider the keywords and phrases you use in headlines. How do people search for these topics? How will people find your articles? What do you want to rank for?
Headline length is important too. It shouldn't be too long, for a number of reasons.
Google truncates long titles in search results. You want the full headline to be visible in the search results so people are more inclined to click on it.
Social sharing. For example, if you want people to share your articles on Twitter, the headline should be short enough to allow people to retweet without having to edit it, or to add a comment if they want.
Emails. If it's going in a newsletter, especially as the headline, the title should be visible in the subject line.
In Summary
SEO and content are distinct disciplines that require different skills and knowledge, but the success of each depends on the other. Content teams should be writing with a knowledge and understanding of SEO goals, ensuring that basics such as internal linking, headline optimization and use of keywords are covered.
To repeat my previous point, the quality of the content is all important and should not be compromised by SEO goals, but it is perfectly possible to write naturally while fulfilling the SEO work. In turn, SEO teams should be working with content creators, ensuring that they are aware of the basics, and helping to set goals which can be achieved through content.
Source: ClickZ
Link: Eight ways content marketing and SEO can work together