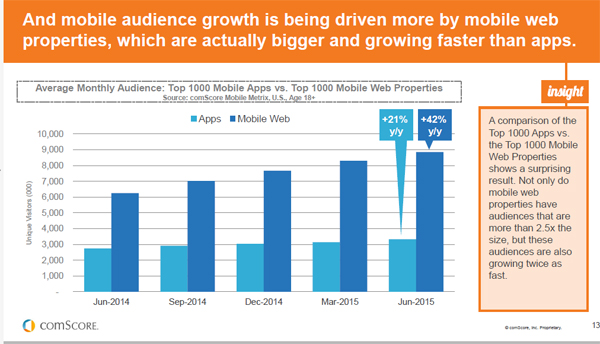 Do you build a mobile-friendly website or a mobile app? Clue: they're not the same thing. Which do you build first?  
Clue: the one with the biggest reach, which works best with social media, ads, email, SMS and search.
This is the third part in the ClickZ DNA of a successful mobile-friendly website series. (Here are parts one and two).
There remains a common misconception that native apps are an alternative to mobile-friendly websites, but this is not the case. The mobile-friendly site is there to serve the mobile masses – it works on any handset… or any other device that has an internet browser.
A native app is only for your loyalist customers who have the right type of smartphone or tablet and have been convinced there is value in downloading and retaining the app on their device.
If social media, advertising (online/offline), email, SMS, web search or referrals are part of your customer engagement strategy, a mobile-friendly web site (or web app) is imperative.
1. Mobile masses v most loyal customers
Native apps are often sold to businesses on the finding that 87% of mobile time spent in the US is in apps v mobile web – a stat from ComScore's U.S. Mobile App Report.
Taken out of context this sounds astonishing and compelling, but is misleading.
The same ComScore report points out that more than half of this time in apps is spent in the user's favorite app; 88% in the top five and 97% in the top 10.
This means that only the most popular apps are thriving. Additionally 71% percent of time is spent in just five app categories: social media (29%); radio (15%); games (11%), multimedia (6%); messaging (6%) and music (4%) – so everything else is less than a third.
The story for mobile reach is totally different. For a broad audience, mobile web is king, and is becoming ever more dominant.
ComScore finds that the average mobile web audience for the top 1,000 mobile web properties is 8.9 million unique visitors per month, 2.5 times larger and growing twice as fast as apps at 3.3 million. Looking at digital properties with a unique US audience of over 5 million, the number of mobile web publishers was 3.5 times higher: mobile web 433; mobile app 123; desktop 314.
This reality means that even the most successful native app publishers also take mobile-friendly web seriously. Take Weather Channel (The Weather Channel app is 17th in the ComScore top 20 for monthly unique visitors).
As Michael Rodriguez, director of product for iOS and personalization at The Weather Channel explains:
Web is used more internationally for reasons such as lower bandwidth, and a certain percentage of users aren't willing to download an app. For a global business, this isn't an "either/or" question. You must have a compelling native app, and you must have a compelling web presence. The reality is that the customer expects you in both places.
Ultimately, we see both web and app as part of a funnel within our overall relationship with the user. As a brand you have to create the best experience for them based on their needs to encourage and maintain that relationship throughout their journey with you.
Image source: ComScore 2015 U.S. Mobile App Report (September, 2015)
While an excellent app could drive great levels of customer engagement with the small number of customers who download it; for everyone else there's mobile-friendly web.
The importance of mobile web rests on its interconnectedness with all the communications channels – social, search, email, apps and web – used by your business, customers and the rest of the world.
2. Is your app going to be noticed?
Will it be as slick, useful, addictive or popular with your customers as Facebook, YouTube, Google Maps, Twitter or Spotify?
That might sound harsh, but with 1.6 million apps available in Google Play and 1.5 million in the Apple App Store (Statistica July, 2015.) the competition to persuade the smartphone users to a) notice you have an app; b) download it; and c) use it; is intense.
There have been a few fairy tales, but mostly the app success stories are companies with the most brand visibility, biggest customer bases and the deepest pockets to pay to develop great apps and promote them (usually the bigger expense).
Yes, if you can deliver an app that is indispensable to your customers, you could be richly rewarded with higher customer engagement, but the odds are stacked against you:
55% of users use four or less apps per day (Nielsen, 2014)
25% of users use an app just once (Localytics, June 2015)
51% of app publishers earn less than $500 a month from their mobile app (Developer Economics, July 2015)
65% of mobile users download zero apps each month (ComScore, August 2014).
Before rushing into an expensive program of native app development, you need to gauge and foster your customers' readiness for mobile engagement with your brand and study their mobile behaviour.
There is no better way to do this than through a mobile-friendly website. When the case is proven, the mobile site will be a good vehicle for encouraging people to move to your app, but please don't ruin your site with download-our-app interstitial ads. Everyone, including Google, hates them.
3. Inclusivity v exclusivity
Native apps are developed individually in different programming languages for different smartphone/tablet operating systems, most commonly Google's Android and Apple's iOS.
Thus they only work with particular smartphones and tablets running the newer versions of these operating systems. Many, possibly most, of your customers will not have one of these devices. And your app will only work on these devices, if your customers actually download it.
Therefore, by definition, customer engagement through a native app only impacts a fraction of your customer base.
Conversely a mobile-friendly website, and, to a lesser extent, a web-based app, will work on any type of device that has an internet browser – feature phone, smartphone, tablet, desktop, smart TV etc. regardless of the make of device, its operating system, browser etc.
It doesn't need to be downloaded from an app store, it's just there in micro-seconds when you click on a link in search results, email, social media etc.
This inclusivity explains why mobile web audiences are so much higher even compared with the top 1000 apps.
While there are elements of complexity in building multi-platform websites (to be discussed in the next article), there are clearly huge advantages in not having to build and maintain a different software application for each type of device your customers might use.
4. Organic traffic from mobile search
If your company, like most, gains new business via web search (check your web analytics to verify how much), then a significant proportion of those searchers will be using a mobile device.
As noted in a previous article, mobile search has now overtaken web search in many countries around the world and Google is now prioritizing mobile-friendly sites in those search results.
It is important to have a site that not only works well – loads speedily, displays properly, fits the screen, no lengthy forms etc. – on their mobile device, but it also takes advantage of mobile features such as click-to-call and location.
By default, the presence of a native app on the searcher's phone is invisible to search engines.
However Google's innovations could change that. If an app developer has introduced deep links and the app is detected on a searcher's phone, they will be prompted to open it.
However deep linking appear to be rather complicated to implement… especially compared with mobile web, where Google's web crawlers should automatically catalogue your website.
5. Organic traffic from referring web and apps
Businesses also rely on third-party websites and apps and websites for organic (unpaid) traffic. This includes links shared on social media, digital media, messaging apps, directories and sites/apps that review travel providers, restaurants etc.
All traffic from apps to your site will be on a mobile device, as will be a proportion of web traffic, making a mobile-friendly site essential.
Research by the IAB in 2014 [this research was prompted by concerns that ComScore's time-in-app findings would encourage companies to develop mobile apps as an alternative to mobile web] suggested that click-through rates from third-party apps, including social media, to websites are higher than are being reported.
The IAB said a "significant" proportion of time reported by ComScore as spent in apps was actually people browsing third-party sites, but without leaving the app.
6. Advertising: online and offline
Whether you advertise online, TV, in print or out of home, a mobile-friendly website aids conversion.
Clicking-through a digital ad on web, search, social media or apps a mobile user expects a good user experience. As demonstrated by this self-study of HubSpot's ad campaigns (July 2015) removing bad formatting and cutting lengthy forms improves conversion.
Key to improving mobile conversions is adding click-to-call, so people who click on the ad can follow up with a call.
BIA/Kelsey estimates that mobile ads led by search, display, landing pages and social delivered 93 billion calls in 2015, this will grow to 262 billion in 2019.
What is perhaps less clear is how mobile can drive conversions for TV, print and outdoor advertising.
This can be facilitated – easily tracked – by a quick response (QR) code which is a barcode which triggers a smartphone to open a webpage when scanned. Other options are search calls to action and unique URLs.
What is a bit harder to track is when a call to action on TV or radio triggers a mobile search.
7. Email, SMS and messaging apps
Marketing communications delivered via email, SMS or messaging apps often contain a web link to further information or an offer online.
In all cases, SMS or messaging apps will be opened on a mobile device, and approaching half of emails will be opened on mobile.
Research by Litmus finds that 48% of its clients' marketing emails are opened on a mobile device. And when these click on a link, 85% are greeted a mobile-friendly site.
A good example of mobile-optimization is location. If the customer wants to act upon the timely offer included in the email or SMS, then the find-nearest-store or navigate-to-nearest-store feature will not only be useful, but will help you track attribution for the in-store sale to the email.
8. Web apps: all the advantages of native apps via a browser
Native apps have always enjoyed a bit of head start in terms of user experience and functionality over web.
Since native apps are software programs developed to work with a single platform typically Android or iOS, they are able to take advantages of the capabilities of the latest devices without needing to wait for standards to be agreed and implemented by innumerable parties including browsers, devices and operating systems.
But that gap is rapidly being narrowed. We are now witnessing the coming of age of the web app, which is gradually bringing much of the user experience, interactivity and features formally only associated to native applications, but accessible via a browser.
This includes the ability to work offline, use the device camera and location and send push notifications.
Web apps will be covered in detail in the next column.
This post is written by Andy Favell. The previous two articles in this series on mobile look at strategy questions to consider before building a mobile site, and how to identify your mobile audience and their needs. 
Source: ClickZ
Link: Eight reasons to prioritize a mobile site or web app over a native app