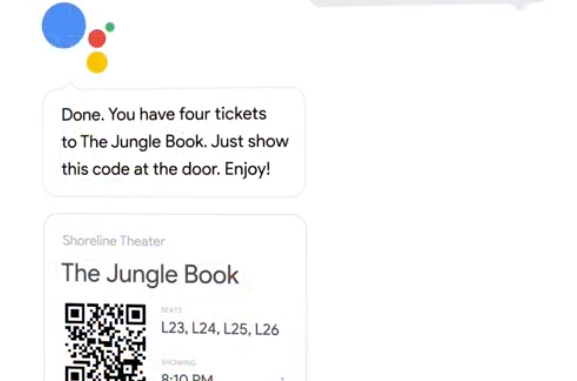 Google I/O was full of announcements about upcoming products and enhancements. The most notable, such as Google Assistant and Google Home, revolved around Artificial Intelligence.
We're in a seminal moment, said Google chief executive (CEO) Sundar Pichai kicking off the company's annual I/O Conference in San Francisco.
Looking back at the past 17(!?) years, Pichai discussed Google's evolution to the live audience of 7,000. As technology gets more sophisticated, he sees artificial intelligence (AI) playing a huge role in the company's next 17 years.
"Leveraging our state-of-the-art capabilities in machine learning and AI, we truly want to take the next step in being more assistive to our user. Today, we are announcing the Google Assistant," said Pichai, one of the only people in the world who's allowed to use the "L" word on Search Engine Watch. "We think of it as building each user their own individual Google."
Right now, 20% of Google searches are queried by voice. Google Assistant is the next step in that, combining voice search with the rest of Google's AI capabilities. For example, if you were standing in front of that giant bean in Chicago, you could ask, "Who designed this?" without any mention of where you are; Google already knows.
What separates Google Assistant from other digital assistants is its various integrations, including Uber, Fandango and OpenTable. While Siri can tell you what time The Jungle Book is playing, you can't actually purchase tickets through her.
Another new product is Google Home, the search giant's answer to the Amazon Echo. Like Alexa, Google Home – which is customizable with different fabrics, materials and colors to match your home aesthetic – can play music and TV shows, and control various aspects of your connected home.
"What makes Google Home really shine is that it has search built in," added Mario Queiroz, vice president of product management at Google. "It draws on 17 years of innovation to answer questions, which are difficult for other assistants to handle."
Google Home is meant to be a more intelligent version of AI, able to answer both your generic ("How much fat is an avocado?") and personal ("What time is my flight on Sunday?") questions. That same level of personalization will be applied to Allo, a messaging app that will be available this summer.
Allo is a bit like the GIF-heavy Peach app (RIP) with Google's AI built in. The suggested responses will be, rather than canned replies, based on what your past responses have been, to both text and images.
"The more you use Allo, the better the suggestions become. The suggestions will be unique to you," said Erik Kay, Google's engineering director.
Other features include a built-in Google Assistant – which allows you to book a restaurant on OpenTable directly in the app while messaging, for instance – and Whisper and Shout, complementary features that amplify your reaction, making it larger or smaller.
Other highlights from the Google I/O keynote include:
An upcoming video calling app, Duo, will includes a live stream of the person calling, allowing you to potentially gauge their mood. For instance, if my boss Graham was calling me with Duo, I'd be able to see if he looked really angry and ready to yell at me for using the word "leverage" earlier.
More details of Android N were revealed. Among them are the introduction of the Vulkan graphics API to Google's mobile platform; a "Clear All" button to simultaneously dismiss all active apps; and split-screen and picture-in-picture modes for multitasking.
Google is building a virtual reality (VR) platform, Daydream, on top of Android N. Unlike Cardboard, which works with any smartphone, Daydream will only work on new phones with specially-built sensors and screens. The platform will include VR versions of Google properties such as YouTube, StreetView, and Play Movies, in addition to Netflix and Electronic Arts.
Android Wear, Google's smart watch, will be updated to include a tiny keyboard, the ability to show data from any application, and automatic activity activation. For example, if you start running, an icon will pop up asking if you want to play your workout playlist on Spotify.
Google has also announced a new mobile analytics platform, which Sophie Loras has covered in detail here: Google launches Firebox.

Source: ClickZ
Link: Artificial intelligence the star of Google I/O