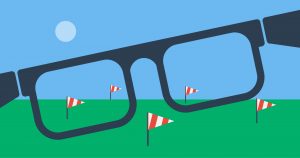 You're missing out on an absolute goldmine. 
When you drive to work. When you go to pick up your lunch. When you take the kids to soccer. When you head out on the town for a couple of drinks. You're not paying attention to thousands of potential leads. What am I talking about?
Local SEO Clients of course.
It's so easy to get caught up looking all over the Internet for an SEO client, but there are so many people on your doorstep who are just dying to get their hands on your SEO expertise. And the best bit? Nobody else is pitching to them.
Here's the easiest ways to find local SEO clients and unlock the potential of that goldmine that you're sitting on…
01: In Your Blood…
Okay, slightly dramatic. But there are hundreds of potential SEO leads connected to you through your friends and family. The people you hold dearest could also hold the key to finding your next client.
As Keith Ferrazzi points out in his book Never Eat Alone, you should look at your network like a garden. In your mind it probably feels like you just have a few potted plants on a windowsill. You know, those people you're directly connected to.
But in actual fact you have a whole jungle of people you're connected to. Because for every connection you have, that person has connections, and then that person has connections. Just speaking to five people that you know could connect you to at least 50, if not more.
Here's a fact for you; my first ever corporate client came from this exact text message to my cousin:
"Hey Mark, you know how your mate Liam runs that training company? Do you think he'd be interested in me working on his marketing?"
That lead to me getting a meeting with Liam, who then fell in love with what I was offering. As did his friend who ran the business in the connecting office and I landed myself two long term contracts.
Think of all the people – not just in your family, but in your life – that you can connect with:
Relatives
Friends
Colleagues (or ex-colleagues)
Barbers/Hairdressers
Dentist
Doctors
There is always someone in your community you can connect with.
In fact I once heard a great story about a Dentist in a small town in England. He told his Hairdresser about his business, gave her a free teeth whitening because she gave 'such a great haircut' and always tipped her a little extra. You know what happened? She told all of her clients about his practice and the nice thing he'd done, and he had more referral clients than he knew what to do with.
You spend countless hours looking for clients in the furthest, darkest corners of the internet. Why not take a break from the screen and get involved in the community?
02: Local Business Directories
Directory is a word that you instantly associate with Spam, right? That's okay, it's just an in-built reflex all SEO's have. But outside of getting links actual businesses use them for real networking and listing opportunities, making it perfect for finding local SEO clients.
You'll find that your region – be it a county, a city a municipality or anything else – will have a business forum or group. A place where businesses can come together online and share ideas, connect and work in a community.
You can find this one of these searches (or a variation of):
Area + business forum
Area + business community
Area + business directory
If I search that for my local area (Northern Englishmen, unite!) I get this result:
And a journey through the top link brings me to this juicy directory of people:
The beauty here is that you have access to their site already. So you can highlight problems and create a tailored value proposition for them and their site. Or, you can take a much more networked approach and send an email like:
"Hey Darren,
I saw you're part of the Salford Business Forum, I'm working on my membership right now! I just wanted to let you that if you have any questions about Internet Marketing or using Google for your business I'm here to give you answers.
I'm also offering a free site audit to all members so you can find out where you can improve, because I know it's sometimes a hard topic to get your head around.
Look forward to hearing back from you.
Cheers,
James"
I mentioned in that email about membership. And, sometimes, it doesn't hurt to become a member of these groups. You can gain a more open access to people and create a bigger, stronger network of people to boost what we spoke about in the first section.
03: Trade Shows
There's a trend in start up agencies that I've never quite been able to get my head around.
You only seem to look for online only  SEO clients. You know, those companies that make all their profits online through sales or services. But there's a whole world of people who conduct their business in the real world that still need SEO results.
And, you're missing out on them.
Take a look at this list of the world's most profitable industries in 2016 from Forbes:
For almost all of these industries the work is done offline. But that doesn't mean they don't need an online presence. They still want to be found, and generate leads, on search engines.
This is where trade shows really come into their own. You can find a show for one of these industries and attend it. All you have to do is network and position yourself in a place where you can generate SEO leads.
For example, let's say you attend a trade show for Manufacturing. You can position yourself as an SEO Agency who is looking to understand the marketing barriers that companies in the SEO industry have:
Is search traffic important to their business?
Do they struggle to generate leads organically?
Do they have issues with visibility?
By having these conversations, and offering solutions, you can generate leads and build your network through simple conversations and interactions. Making it one of the best ways to get SEO clients. You don't really need more than a notebook; and you actually learn what clients in this industry want too.
Don't be scared to go offline by telling yourself that they don't need SEO or that owners in that niche don't want it. There is always an opportunity to get people on board.
04: With Your Clients And Employees
Referrals are a really simple way to generate SEO client leads and build your authority. Because, you don't have to have a big reputation to get clients in.
Think of it this way:
You might like Starbucks coffee. Heck, you might love it. But when someone recommends that little coffee shop down the road to you, you still want to go and check it out because it's got a seal of approval.
The same happens for you. They might know about big agencies, but when they hear from a trusted friend or colleague that your work is the shit, they'll be more interested to want a slice of it.
Here's what Arsen Rabinovich of TopHatRank had to say about using referrals to build his agency:
"We get referrals from current and past customers, and other industry professionals (designers, developers, PR agencies, branding firms). These referrals have always been a big part of our customer acquisition model, and the best part is that you don't have to be a very well known SEO agency to generate them. You do, however, need to be awesome at what you do!"
This strategy is really simple to set up, too. You just have to have some existing clients who know other people. Then provide them with an incentive if they get people to sign up, like a free service for a month or two.
You can also use the same system with your employees, too. When I used to work in the Gym's as a youngster we would get £50 for every friends or family that we signed up for a membership. A similar system can work within any kind of business, and for your agency.
All of this prospecting doesn't require any extra effort from you either. Winner!
05: Connect With Design Agencies
This might seem a little against the grain but hear me out.
When a client comes to a Design Agency they're normally instigating a new marketing campaign. They want a new look, a new feel or to change their strategy in some way. This is the perfect opportunity to start offering your SEO services in collaboration.
My good friend, Scott Jones, runs a design agency called Illustrate. In conversations with him clients ask for SEO work alongside their design's all the time. After all with a new site comes a whole new need for copywriting on the site.
Partnerships with these agencies is the perfect way to share this love and send business your way. And, you can send design work their way. It's a win for you, a win for them and a win for the client.
Wrapping It Up: The Golden Rule Of Local SEO
If you take nothing from this article let it be this:
The most important part of getting Local SEO Clients is to get involved in your local community.
Be a face. Be a personality. Network and talk to people on a human level. Don't hard sell all the time. Create connections and add value and show you care about the success of the businesses in the area.
The rest, well, that's up to you to decide.
Let me know your experiences with Local SEO Clients in the comments…
The post 5 Sensational Places To Find Your Next Local SEO Clients appeared first on Serped.com.
Source: SERPd
Link: 5 Sensational Places To Find Your Next Local SEO Clients