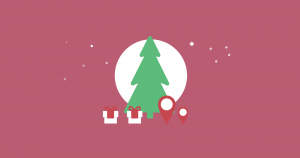 Today we're super excited to announce the launch of a new tool, just in time for the holiday season! Consider it as your Xmas gift
This new tool, called Competitor Citations, allows you to compare the citations of any local business listed in Google vs. their top competitors.
This means you might find sites or directories where top competitors are listed and where your local business isn't. In other words: citation opportunities!
We say "your local business", but it doesn't need to be yours of course. It can be your client's, a prospect's, a competitor's… There is no limit.
The idea behind this tool is to help you find out where you should get listed, for more exposure, better local rankings, and ultimately more business.
How does Competitor Citations work?
Competitor Citations is accessible from the TOOLS menu, and is located under the SEO Analysis category.
If you open Competitor Citations for the very first time, you will be invited to run your first search. If you already ran a search in the past, you will see a blue + button at the top right of your screen. Click it to perform another search…
You will then see a search form that you must fill out.
In the "Select Your Business" section, make sure the business name, country, state (if required) and city name are exactly as shown in Google's local results.
Once you've filled out the form, click on Schedule Report.
On the results page, you will see where the Top 5 local businesses for the keyword you entered are listed (in which sites and directories). Your local business is highlighted in blue. If it is not in the Top 5 results yet, you will see a 6th column, like in the example shown below.
2 possibles cases:
– If the local business is listed in a site or directory, you will see a View Listing button on the right, so you can check it out, maybe make a few improvements…
– If the local business isn't listed in a site or directory, you will see a Create Listing button instead, so you can go ahead and get listed, for more exposure.
That's how you can find citation opportunities and get listed on sites and directories where your competitors are already listed… which will help you get more exposure, higher local rankings and ultimately generate more business.
Please note you also have the option to export results as a CSV file, by clicking on the export button located at the top right of search results.
Video Tutorial
Log in now and give this powerful tool a try… All Premium, Ultimate and Enterprise members have access to this tool, at no extra cost.
Not a member yet? Click here to sign up now…
Remember you can also find us on Facebook, Twitter and LinkedIN.
The post New Competitor Citations Tool – Just in Time for the Holiday Season! 🎄🎁 appeared first on Serped.com.
Source: SERPd
Link: New Competitor Citations Tool – Just in Time for the Holiday Season! 🎄🎁