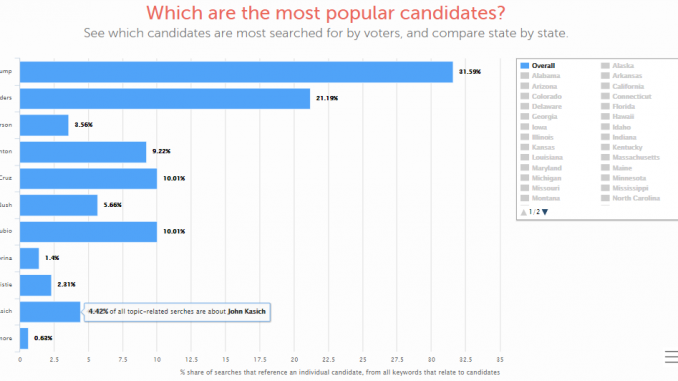 Search data has always been powerful, but it becomes even more significant when we're able to understand what people search for in relation to the 2016 US elections and how this may affect the final outcome.
Every search query reflects a voter's question regarding the candidates or specific topics and this could eventually affect the sentiment (and the preference) towards the elections.
Linkdex has released a search report named the United States of Search and it offers interesting interactive data by comparing the candidates, the topics and even the websites, both across all the states and divided state-by-state.
According to the analysis of the search results, Donald Trump is the most searched candidate among all states, occupying 31.59% of all the searches, with Bernie Sanders being second with 21.19%, while the other candidates are much further behind the first two.
Still on a country-wide level, the most searched topics are: education (20.33%), religion (13.46%), foreign policy (11.81%) and gun control (8.58%).
Search data allows candidates to measure the interest, but also the variations from state to state and this leads to useful conclusions regarding the opportunities they may explore, both by state, but also by topic in order to boost their favourability.
For example, according to the results below:
44.6% of candidate-related searches in Georgia are about Donald Trump
44.7% of candidate-related searches in Vermont are about Bernie Sanders.
there are 23.5% more searches for Hillary Clinton in Vermont than the national average
there are 14.9% fewer searches for Donald Trump in Vermont than the national average
What's more, it has been observed that voters turn to Wikipedia as their primary source of information regarding the presidential election, with Facebook being their second choice. This proves that people either turn to what they consider a trusted source, or prefer to rely on their filtered timeline on Facebook (and the relevant Facebook pages) to seek more details.
Still, if they really have to visit a candidate's site for further information, they are most likely to visit berniesanders.com, with donaldjtrump.com being their second choice and tedcruz.org third.
There's also the search for trump.com, which highlights the voters' need to seek more information about Donald Trump (or they simply might have been confused between the two sites).
Finally, if we measure the candidates' search performance during the past 30 days with Google Trends analysing their recent searches, we would note once again a clear advantage for Donald Trump, as his campaign seems to be unstoppable in terms of media domination, although Bernie Sanders is still stable as the second most searched candidate.
Can search results predict the winner?
An analysis of the search queries leads to very useful conclusions, both about the candidates' popularity, but also about the voters and the way they use online search to stay informed about the presidential elections.
A state-by-state comparison showcases the different sentiments among voters and the varying topics they are mostly interested in, which helps us understand how people ultimately vote for their favourite candidates.
However, it is uncertain yet whether the search results can predict the big winner of the US elections, as Donald Trump seems to have significantly "disrupted" the game, winning the media impressions with his constant presence in the news, which eventually leads to the increase of his search results.
Yes, Donald Trump is the big winner of the search results up to now, but yet there's Bernie Sanders who is constantly second in the search results (which is a win judging by the disruption Trump has caused), while we can't ignore Hillary Clinton and her well-rounded digital campaign.
Source: ClickZ
Link: How organic search might influence the 2016 US election